The role of apps - Mobile applications - Dare to be better ? OK !
Publié le 10 Décembre 2013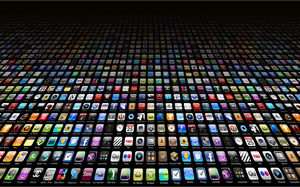 Mobile applications can be used by businesses for a variety of purposes, from powering loyalty initiatives to essentially acting as a mirror to mobile websites. However, just because apps can be leveraged in a number of ways that doesn't mean they aren't better or worse at specific tasks. For example, a new study from Siteworx found that 65.7 percent of people would rather use mobile web browsers for shopping at an online store.
The perks of apps
However, apps still serve a critical role in effective mobile marketing campaigns. The Siteworx study also found that the most successful apps are the ones that give consumers a specific reason to download them. Special offers and loyalty benefits were cited as two incentives that would get people to download an app. And while many prefer mobile browsers, people would download mobile apps if they offered a better browsing experience.
Additionally, nearly 40 percent of respondents also said they used mobile apps to check out product reviews, and 39.1 percent did so to browse related products. The report highlights the fact that apps do not equal mobile websites, but serve a completely different and equally necessary role for the successful engagement of consumers.
"The tension between mobile Web sites and apps continues," asserts MediaPost, in reference to the study. "This survey reinforces the idea that most people are bringing their Web habits onto their devices and often are using search as the means to get to a particular Web site or simply typing in a Web address. They need a good reason to download an app."
"Convenience matters," the marketing blog adds. "And retailers that find that central convenience touch​ point in their consumers gives users a reason to download an app as well as a reason for the user to remember that the app is there."
Creating an app that's worth the download
So many businesses view mobile apps and websites as two tools to do the same job, when they can serve radically different purposes. Millions of people download apps each and every month, so the matter isn't "do consumers download apps?" but "what do I do to get them to download mine?"
For example, the monthly report from Xyo suggests that upward of 700 million apps are downloaded by Americans each and every month. Separate data from comScore also illustrates that approximately half of all smartphone owners download apps on a monthly basis. Businesses just need to create an app that's worth the download.
The key is creating an engaging mobile experience. An effective app goes beyond simply getting consumers to download it – it needs to create a better customer experience that will encourage users to keep coming back to the brand in question.
see more : http://www.capturecode.com/the-role-of-apps/
Dare to be better ? OK !
Ookawa-Corp powered by B'Leader, energized by New3S, hosted by 3DWC.biz