Phablet : definition - Dare to be better ? OK !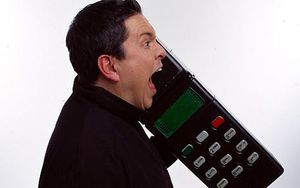 My two months with a 'phablet'
Phablet-frenzy has hit Asia, and analysts predict that giant phones could be all the rage in Europe and America soon, but what are they actually like to use? Sophie Curtis spends two months finding out.
Just before Christmas, I dropped my Samsung Galaxy S4 down the back of a radiator in a pub. After about an hour trying to extract it with various kitchen implements supplied by the bar staff, I had to accept that I was never getting it back.
I rushed back to the office in the hope that another model, new or old, might have come in for review. My eye fell on the HTC One Max – a behemoth of a phone, you can't miss it.
I have never been tempted by massive phones. The 5-inch Galaxy S4 is already a bit of a stretch when you're using it with one hand, and the 5.9-inch HTC One Max just seems excessive, particularly when placed next to the 4-inch iPhone 5s
However, analysts point to the growing popularity of 'phablets' (a horrible word to describe something between a phone and a tablet). In parts of Asia, they're more popular than laptops and tablets combined, and even Apple is rumoured to be working on a larger-screen iPhone.
I decided it was about time to explore this new phenomenon for myself, and scooped the One Max into my handbag.
One (Max) thing you notice very quickly when you're using a phablet is the expression on people's faces when you take it out – a combination of intrigue, horror and ridicule. My HTC quickly became known as the 'clown phone' in my house because, like a clowns' giant shoes, it somehow makes the rest of you look smaller.
It's not a device I could imagine a man using, because it fits in very few pockets. My winter coat did actually have a pocket big enough, but seeing as this was the very pocket from which my previous phone had slipped, I was loathe to risk a repeat of the incident.
Luckily, its sheer size meant that it was easy enough to find in my handbag, and didn't require unnecessary amounts of scrabbling. And while I felt a bit of a fool making calls, the sound quality was very good.
After accepting that most tasks – texting, emailing, searching maps, browsing the web – now required two hands rather than one, I actually began to enjoy using my phablet. The large screen made typing easier, and watching video much more pleasant. Flappy Bird also seemed to require less precision.
I also, for the first time ever, read an entire novel on my phone, using the Amazon Kindle app. The text was a comfortable size, and yet there were enough words on each screen that I was able to get into the flow of the story, without having to turn the page every other sentence.
I still struggled navigating the streets of London in the pouring rain with an umbrella in one hand a phablet in the other, but perhaps this is a rare challenge for most people.
At 217g, the One Max is not the lightest device to carry around with you, although admittedly far lighter than an iPad Mini or Kindle Fire tablet. The problem for me was that I just couldn't quite get over the feeling of looking ridiculous. Whenever the phablet was out on a table, someone would pick it up and pretend to be Dom Joly in Trigger Happy TV.
Dom Joly in Trigger Happy TV
My happiest moment was, while having lunch with my parents one Sunday, one of their friends took out a Samsung Galaxy Note 3. They ooh-ed and ahh-ed, and I finally felt like I belonged.
But I will be surprised if phablets really catch on – and this is not just a comment on the HTC One Max, but on all large-screen smartphones, including the Samsung Galaxy Note, the Sony Xperia Z1 Ultra, the Nokia Lumia 1520 and others. While they have their advantages, they are unwieldy and, unless giant pockets come into fashion next season, they remain slightly impractical.
That could all change, of course, if the trend for wearable devices takes off. If you had a smartwatch, for instance, that could communicate snippets of information to your wrist while you were out and about, then keeping your primary device in your bag would be less of an issue. It might, even, impact on sales of larger tablets.
I will also admit that, by comparison, the smartphone I am using now – the 4.3-inch Sony Xperia X1 Compact – feels incredibly small, and my typing has gone completely down the pan. (Review of the phone, but not my typing, to follow).
Interestingly, the HTC One Max is almost identical in size to Sony's PS Vita handheld games console, suggesting that phablets could prove to be popular among casual gamers. Smartphones are already eating into the handheld gaming market, and the larger screen of the phablet offers a better gaming experience than a 4-inch smartphone, while being more maneuverable than a tablet.
For now, however, I've decided that phablets are not for me. I can't think of any applications other than gaming that are better suited to this size of device than any other – and I'm no gamer. Perhaps I will be eating my words in a few years time but, until then, I won't be missing the Dom Joly impressions.