Eco-balance of a Solar Electricity Transmission from North Africa to Europe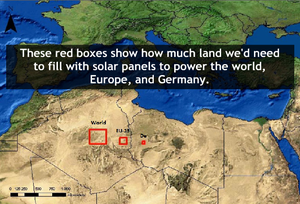 Eco-balance of a Solar Electricity Transmission from North Africa to Europe
TECHNICAL UNIVERSITY OF BRAUNSCHWEIG Faculty for Physics and Geological Sciences
The present energy supply is mainly based of fossil energy sources. Because of
decreasing resources, a worldwide increasing energy demand and the resulting
growth of the environmental pollution, it's necessary to tap other sources in the
long term. In this context it is pointed to the large potential of solar energy in North
Africa, which theoretically meets the world's energy demand many times. On-site
solar electricity can be produced by solar thermal power plants and then be
transmitted via high voltage direct current transmission (HVDC) over long
distances to Europe. In this thesis the environmental impacts are described which
result from the installation of the infrastructure. Furthermore a GIS-Analysis is
carried out to set power lines under ecological aspects. Within the scope of an
eco-balance the resulting lines together with solar thermal power plants are
investigated regarding possible impacts on the environment and material and
energetic expenditures respectively. It can be shown that the power lines slightly
contribute to all impacts compared with the plants. If the results of the impact
assessment are normalized to one kilowatt-hour and set against a reference
contemporary electricity mix, the impacts are distinctly lower than in the reference
in all areas. Only a larger quantity of material expenditures is necessary to built up
the infrastructure.


Download http://www.dlr.de/tt/Portaldata/41/Resources/dokumente/institut/system/projects/Ecobalance_of_a_Solar_Electricity_Transmission.pdf
Green Energy Smackdown: Pulling Electricity From Thin Air - Dare to be better ? OK ! - OOKAWA Corp.
Green Energy Smackdown: Pulling Electricity From Thin Air &.../... In theory, this new knowledge could be used to provide clean power in a way similar to how solar cells provide electricity from the
http://ookawa-corp.over-blog.com/2013/12/green-energy-smackdown-pulling-electricity-from-thin-air-dare-to-be-better-ok.html
Green Energy Smackdown: Pulling Electricity From Thin Air