SR - 71 Supersonic Blackbird How to fly the world's fastest plane
During the Cold War, the US Air Force operated the world's fastest air-breathing aircraft - the Lockheed SR-71 Blackbird.

It was a plane which flew at the edge of space; so high that most other jet engines would seize because of the lack of air. A plane that flew so fast that its airframe heated and grew during flight. A plane that, if needed, could outrun missiles launched to bring it down. Amazing stories of the Cold War's ultimate spy plane

The Lockheed SR-71 was a product of airplane maker Lockheed's Skunk Works, a secretive project which came up with some of the world's most advanced aircraft. It was designed after the loss of a U-2 spyplane over the Soviet Union in 1960 -- a plane thought to fly too high to be shot down.
The Blackbird would fly even higher, and at speeds of Mach 3.3 it would be fast enough to outrun any missile fired at it.

From 1966 until its last mission in 1989, the Lockheed SR-71 Blackbird flew thousands of missions around the globe, photographing military installations from China to Egypt, the Arctic Circle to North Korea.

Colonel Rich Graham flew the Blackbird from 1974 until the mid-1980s, first as a mission pilot and then as a trainer. He later took command of all Blackbird detachments -- in California, Mildenhall in the UK and at Kadena on the Japanese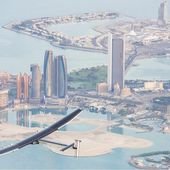 Solar Impulse plane set for epic global flight - OOKAWA Corp.
A record-breaking attempt to fly around the world in a solar-powered plane is set to get under way on Monday. The aircraft - called Solar Impulse-2 - will take off from Abu Dhabi and head east ...
http://ookawa-corp.over-blog.com/2015/03/solar-impulse-plane-set-for-epic-global-flight.html
Solar Impulse plane set for epic global flight - OOKAWA Corp.