Be Digital : Luminothérapie - interactive and digital public art illuminate winter in Montreal's Quartier des Spectacles
Publié le 18 Décembre 2014
MONTREAL, Dec. 17, 2014 /CNW Telbec/ - Until February 1, 2015, two new public art installations can be discovered in the fifth annual Luminothérapie in Montreal's Quartier des spectacles: Prismatica by Raw Design and Fascinoscope by Lüz Studio. Luminothérapie is an opportunity for creators to present light-based works in the public spaces of the Quartier des Spectacles and help make the spaces a major attraction in the heart of Montreal.
This year, interactivity is a particularly important part of Luminothérapie. The public can participate by making Prismatica's giant prisms rotate on Place des Festivals and by playing Fascinoscope's four carnival games outsideSaint-Laurent metro station.
The works are on display for free daily, with Prismatica open around the clock and Fascinoscope starting at nightfall.
Every Friday and Saturday in January from 5 to 8 p.m., Place des Festivals will feature one food truck, allowing visitors to enjoy a fireside snack while enjoying the light show.
Starting January 15, there will be free guided tours of the Luminothérapie works. Online registration will begin onJanuary 6.
For more information about Luminothérapie: www.quartierdesspectacles.com/lumino
"Luminothérapie brings a playful, creative touch to winter in the Quartier des Spectacles. By presenting new works every year, the event democratizes public interactive art and makes it an integral part of Montreal's DNA. It is an exceptional calling card for our city, helping it earn an excellent reputation among cities that are distinguishing themselves as cultural centres," said Jacques Primeau, chair of the Quartier des Spectacles Partnership.
"I am once again proud to say that Montreal's reputation extends well beyond our borders, and that as a UNESCO City of Design, the city is attracting a great deal of interest from creators. Luminothérapie is an important platform for the next generation of designers and a gathering place for all Montrealers and visitors. It democratizes art and encourages discussion," said Manon Gauthier, the Ville de Montréal's executive committee member responsible for culture, heritage, design, Space for Life and the status of women.
Prismatica by Raw Design
Open 24/7
This immersive installation, comprised of 50 pivoting prisms more than two metres tall, transforms the Place des Festivals into a giant kaleidoscope. The prisms are made of panels laminated with a dichronic film that transmits and reflects every colour in the visible spectrum, varying with the position of the light source and the observer. The prisms are mounted on bases containing projectors. As visitors wander among and manipulate the prisms, they will enjoy an infinite interplay of lights and colourful reflections. As the prisms rotate, a variable-intensity soundtrack comprised of bell sounds will play.
RAW Design (Toronto)
RAW Design is a Toronto-based architectural firm that works on a wide variety of scales and project types. From community greenhouses to large residential developments, not to mention outdoor interactive installations, its team of 30 architects and designers takes a collaborative, multidisciplinary approach. For Prismatica, the firm assembled a team of professionals from several fields (applied science, technology, art and architecture).
source : http://www.newswire.ca/en/story/1465095/luminotherapie-interactive-and-digital-public-art-illuminate-winter-in-montreal-s-quartier-des-spectacles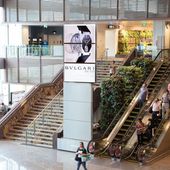 Les Digital Towers de JCDecaux pour aeroport Changi Singapour : du mobilier digital 7m de haut avec 9 ecrans digitaux 80" HD - OOKAWA Corp.
JCDecaux dévoile les Digital Towers à l'aéroport de Changi à Singapour Paris, le 20 octobre 2014 - JCDecaux SA (Euronext Paris : DEC), numéro un mondial de la communication extérieure, ...
http://ookawa-corp.over-blog.com/2014/11/les-digital-towers-de-jcdecaux-pour-aeroport-changi-singapour-du-mobilier-digital-7m-de-haut-avec-9-ecrans-digitaux-80-hd.html
Les Digital Towers de JCDecaux pour aeroport Changi Singapour : du mobilier digital 7m de haut avec 9 ecrans digitaux 80" HD - OOKAWA Corp.